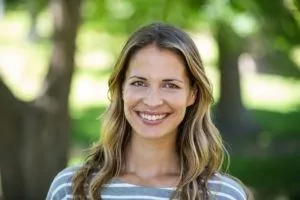 It seems like an easy solution for stained teeth: pop into the pharmacy or grocery store after work for one of those one-size-fits-all teeth whitening treatments that promise dazzling smiles in 7 to 14 days. If you've done it, you're certainly not alone. Many Vaca and Kirby in Longview TX patients choose over-the-counter bleaching kits without consulting their dentist first. Unfortunately, we've seen the dangers not seeking a professional opinion can have — there are 4 in particular.
#1: Overuse and Abuse
One of the most common problems that can occur when you whiten your teeth without a professional's input is the potential for overuse or abuse of the bleach. An over-the-counter kit can only be so effective — it's not professional grade, after all. Wishing for better results, many adults continue to use the treatment after the recommended amount of time, leaving them at a higher risk of tooth sensitivity, worn tooth enamel, tooth decay, and a host of other issues.
If you do choose to use whitestrips or any other bleaching kit you can buy without a professional, make sure to only use it as directed. Most kits last for a duration of 7 to 14 days.
#2: Burns
Unlike a professional whitening treatment, a bleaching kit that you buy at the pharmacy is not customized to fit your unique dental anatomy. That means your gums are at risk of developing mild to severe burns, as the powerful bleach can be held up to the soft oral tissues for as long as 30 minutes at a time.
Professional whitening, on the other hand, is applied according to the specific dimensions of your teeth and gums. That makes it the safest choice possible in teeth whitening.
#3: Allergic Reaction
While minor, the risk of allergic reaction is always present with teeth whitening. We have heard stories of lips that double in size with swelling, or burning gums and lips that cause extreme discomfort for days. Even if you ultimately choose to whiten with a one-size-fits-all treatment, you can avoid the risk of allergic reaction by consulting with your dentist first. We will discuss all of your allergies and your health history to ensure that you can safely proceed with any bleaching treatment.
#4: Sensitive Teeth
Many people who undergo a teeth whitening treatment experience sensitive teeth. It may occur as "zingers" during the treatment (while you are wearing the bleach) or it can linger as lasting sensitivity to hot and cold foods and beverages. Partnering with your dentist can help you avoid this risk, as a professional will be able to make special recommendations or adjustments to your treatment plan if you are at a high risk of developing teeth sensitivity.
How to Whiten Safely and Effectively
The best way to reveal your most stunning smile without damaging your teeth and gums in the process is by visiting with a professional first. At Vaca and Kirby in Longview TX, we can discuss your oral health, your smile goals, and your budget to decide which method of whitening is best for you. Patients from Gladewater, Hallsville, and New Diana come to us for this and other cosmetic dentistry options. Contact us today!
Contact Vaca & Kirby Dental:
Location (Tap to open in Google Maps):