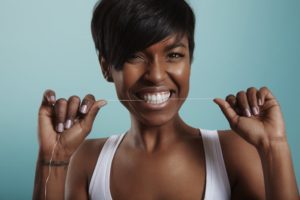 Flossing. It's annoying, and does it really do that much? Yet you know your family dentist in Longview is going to remind and encourage you to floss daily. But why is flossing so important? Here are 5 reasons that you really should add flossing to your daily routine.
Reduce the Bacteria in Your Mouth
There are millions of these microscopic creatures feeding on food particles on your teeth. These bacteria live in plaque, a sticky film. Plaque can cause cavities, irritate the gums, and lead to gum disease. Brushing your teeth gets rid of some of the bacteria, but your toothbrush bristles can't fit into the spaces between your teeth. That's a lot of vulnerable, unprotected surface area in your mouth! Flossing gets rid of the bacteria the toothbrush can't get.
Keep Your Mouth Healthy
No one likes cavities. But think of how much worse it would be to get one between two teeth in a hard-to-reach place. Also, gum disease can become so advanced that one or more teeth need to be extracted. Save yourself some serious pain and choose to floss daily.
Promote Overall Wellness
Did you know that your oral health and your general health are connected? Links have been found between oral health and heart disease, diabetes, rheumatoid arthritis, and respiratory disease, just to name a few. You can reduce your risk of these diseases—or improve your condition if you already have them—by taking better care of your mouth with flossing.
Prevent Tartar Buildup
If you do not floss, you allow plaque to remain between your teeth. Within hours of eating, plaque starts to harden, and after 48 hours, it solidifies into tartar. Soft, sticky plaque can be removed by brushing and flossing on your own, but only a professional hygienist or a dentist can remove hard tartar from your teeth.
Stop the Bleeding
Do you find that your gums bleed when you floss? Although it may seem strange, but the more you floss, the less blood you'll see. This happens because when the bacteria in plaque lingers, it can cause an infection or gum disease, stimulating blood cells to come and try to fight it. If you remove the source of the infection, less blood is sent to the area.
If you don't know how to floss or you're not sure that you are flossing correctly, ask your family dentist in Longview to show you the proper way. And then do it! You will both notice the difference at your next cleaning appointment.
About the Practice
At Vaca and Kirby Dental, residents in the Longview area have the choice of three talented dentists. Dr. David Vaca was named a Patient Reviews Certified "Top Doctor" in Cosmetic Dentistry. Partnering with Dr. Vaca in 2006 to start Vaca and Kirby Dental, Dr. Chris Kirby has more than 26 years of dental experience and was selected by his peers as an outstanding practicing dentist in Texas for the 10th year in a row for Texas Super Dentists in Texas Monthly Magazine. In 2013, Dr. Stephen Walker was elected New Dentist of the Year by the Dallas County Dental Society. They can be contacted by calling903-663-0861 or clicking here.