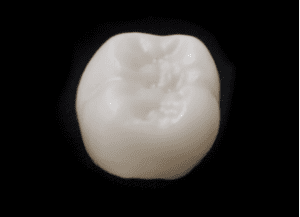 Has your dentist in Longview recently recommended that you receive a dental crown? If so, you may question whether it is really necessary as it will involve permanently altering your tooth. Despite your hesitation, if your dentist has advised that you get one, it is for good reason. Dental crowns are quite versatile, allowing them to be used for several purposes. Not only can they restore the health and function of a tooth, but also improve its appearance and protect it from additional damage. If you are concerned about the procedure, you have nothing to fear!
Do I Need a Dental Crown?
A dental crown is the single most common restorative procedure in the United States because it is an effective long-term solution to repair and strengthen a damaged tooth. By placing the custom-made protective cap over it, its health and function are restored while its appearance it often improved.
When used for restorative dentistry, your dentist may recommend its use for several reasons, such as:
Treating a tooth that has previously had a large filling
Strengthening a weakened tooth
Restoring a broken or fractured tooth
It is not uncommon for a dental crown to be used in combination with other restorative treatments as well, such as root canal therapy, dental bridges, or dental implants.
In some cases, your dentist may also suggest the use of a dental crown for cosmetic reasons as well, such as:
Cover dark discoloration
Improve the size and shape of a tooth
Replace dark metal crowns
No matter the reason behind your need for a crown, you can rest assured that it will benefit your oral health and quality of life.
How Long Do Dental Crowns Last?
In the past, dental crowns were commonly made from metals and alloys, which are affordable and effective. Unfortunately, they are highly visible, often causing people to feel insecure about their appearance. Now, they are typically made from porcelain because they can be customized to look like a real tooth. Although they are not made from metal, they still offer the same long-term results. With the right aftercare, they can last for an average of 10 years or longer before needing to be replaced.
Benefit from an Effective Solution
If you need a dental crown, rest assured that it will be made with precision and accuracy to look like a natural tooth. It will meet your exact size, shape, and color needs to blend in seamlessly with your natural teeth. You can smile with confidence while restoring your oral health.
About Vaca & Kirby Dental
At Vaca & Kirby Dental, we are committed to providing our patients with exceptional dental services. In addition to preventive care, we also provide comprehensive restorative and cosmetic treatments to help you achieve and maintain a healthy, beautiful smile. As a general and emergency dentist in Longview, we offer porcelain crowns to quickly rehabilitate your dental health while keeping aesthetics in mind. If you need a dental crown, benefit from care you can trust. Contact our office today to schedule your consultation.