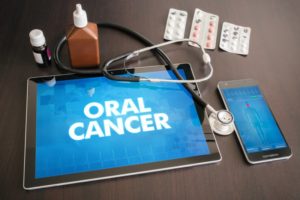 When you think of your dentist, you probably think of them as being able to only protect you from the little problems like cavities and wisdom tooth pain. But they can do so much more. Oral cancer screenings in Longview can help with early detection and reduce your risk. Your dentist can check for symptoms and signs of the disease at your regular checkup appointment and help ease your worries. Read on to discover common warning signs you can look for to prevent oral cancer from wreaking havoc on your life.
The Importance of Early Detection
Historically, the death rate for oral cancer has been high. Not because it's hard to discover, but because it's often found too late in its development. Recognizing it in its early stages is critical for establishing a successful treatment plan that could save your life. In fact, there is an 80 to 90 percent survival rate for patients diagnosed in their early stages.
Oral cancer includes cancers of the lips, tongue, cheeks, the floor or roof of your mouth, throat, and sinuses. The cancer cells invade, and damage surrounding tissues and can spread to other parts of your body, which is why early detection is so crucial.
Possible Oral Cancer Treatments
If your dentist believes that you could have oral cancer, there are multiple treatment options that you could undergo. Common ones include:
Radiation therapy
Surgery
Chemotherapy
Immunotherapy
Targeted Therapy
Common Signs of Oral Cancer
Oral cancer manifests itself in many ways:
Sores or discolored areas of the mouth that don't heal within 14 days
Painless lump inside the mouth or on the neck
Difficulty swallowing, speaking or chewing
Hoarseness that lasts for prolonged periods of time
Numbness in face
Persistent earache
Red or white oral sores
These symptoms will predominantly appear in the front and bottom of your mouth as well as on your tongue. The main causes of these symptoms can be from tobacco use or alcohol consumption, but the exposure to the human papillomavirus (HPV) has also been proven to cause oral cancer in otherwise healthy patients.
What's Involved in an Oral Cancer Screening?
During your oral cancer screening, your dentist will look for the common symptoms listed above. With gloves on, it will feel your oral tissue to check for lumps. If your dentist detects a suspicious area of your mouth, they may require a biopsy with your doctor. During this, they'll remove a sample of cells to be tested to determine if they're cancerous. This procedure is usually quick and cost-effective.
If you believe you have signs of oral cancer, be sure to bring them up to your dentist in Longview immediately. Otherwise, it's recommended that you get screened for this disease at least once a year. If you attend your six-month checkups, you'll be more likely to spot oral cancer sooner rather than later. Early detection can be a lifesaver!
About the Practice
At Vaca & Kirby Dental, you'll get to experience the highest quality of care from our Top Doctor award-winning dentists. With decades of experience and knowledge, you'll feel confident that they can identify anything you should be worried about during your oral cancer screening. If you have any questions or concerns, contact us at903-663-0861 or visit our website.