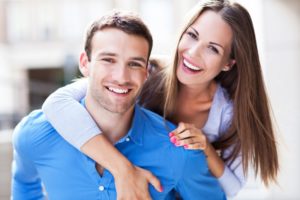 You're used to hearing your friends make New Year's resolutions, but when was the last time you saw them follow through? Whether they set the bar too high or were never interested in the first place, it's not something you want to mirror.
So this year, why not make seeing your Longview dentist and regular oral hygiene the resolution for you? By the time the year ends, you'll wonder how you ever missed a day of brushing and flossing at all! Learn the steps to getting that perfect, healthy smile today!
Create a Regimen You'll Stick To
Making a resolution you know you won't stick to is like making a promise you can't keep. According to the ADA, the bare minimum for your oral health regimen should consist of brushing your teeth, gums, and tongue twice a day for two minutes each session, brushing after every meal, and flossing at least once a day. When it comes to at-home care, this is all that's needed to remove the plaque and food debris on your teeth.
Use a timer to measure the minimum amount of time needed to brush thoroughly. Create a chart that helps you visualize your goal of brushing every day, so you have something to be proud of. Figure out how long it takes for your regimen to become an unconscious habit (and use this data for other habits you'd like to make for yourself!)
Pay Close Attention to the Foods You Eat
The big ingredients you'll want to avoid are sugar and starch. Both these substances act as bacteria's food source, so reducing them will reduce the number of active bacteria in your mouth at any given time. You'll also want to watch out for acidic foods that strip your tooth's enamel of minerals. This can expose the dentin underneath to cavity-causing bacteria.
If you already planned on losing weight as part of your resolution, take that into consideration to give yourself an additional incentive. However, if you must consume drinks with sugar in them, opt for a straw to reduce exposure to the surfaces of your teeth. You should also consider another source of hydration before reaching for that soda or iced coffee.
Proper Fluids are Your Best Friend
Water not only hydrates your body; it washes away additional food debris that bacteria would normally stick to in your teeth, especially in hard-to-reach areas. It will also wash out foods with acidic properties, therefore raising the pH balance in your mouth. The higher your pH balance, the less likely you'll experience tooth decay.
Along with consuming water throughout your day, rinsing your mouth out with water or mouthwash are also good options for reducing your pH balance. Fluoridated mouthwash can strengthen your tooth's enamel, so try incorporating this to your oral routine over time.
Let this year be a healthy year for your teeth. Contact your dentist in Longview for more tips and to schedule your biennial dental checkup!
About the Author
While Dr. Stephen Walker attended the Baylor College of Dentistry to earn his D.D.S. degree, he was a member of the Odontological Honors Society and eventually received the Oral Biology Award and Merritt-Parks Award in Periodontics. He then continued his education in Periodontics at Baylor via a 3-year residency, where he earned his certificate in Periodontology and Masters of Science degree. To contact his practice, give him a call at903-663-0861 or visit his website.