Haven't Heard?
We have been running a Peanut Butter Drive all month long! There are still a couple of weeks left to donate. Come see us!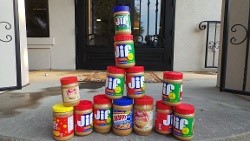 We are collecting jars of peanut butter that we will donate to Longview Community Ministries to assist hungry families in our area.
When patients bring in a jar of peanut butter, your name will be entered into a drawing for a Phillips Sonicare Tootbrush! So, whether it be creamy or chunky, bring as many as you can! The only requirement is that the jar of peanut butter be at least 18 ounces.
Vaca and Kirby Dental Group will be drawing the lucky winner on October 1st! So, come visit your dentists in Longview TX and help us spread the love in the Longview community!