We Are Committed to Keeping Your Smile Healthy
While we provide numerous dental treatments, one of the most important services that we have to offer is your routine dental checkup and cleaning. By visiting our office every six months, you can keep your mouth healthy and smile shining. More importantly, we can prevent serious issues from occurring in the future, setting you up for oral health success. Read on to learn more about why dental checkups and cleanings are imperative and what you can expect during these routine visits.
Voted Best Dental Office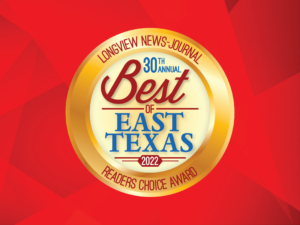 Vaca & Kirby Dental has been voted the best dental office of East Texas for 2022 in the Longview News Journal. Readers of the Journal voted and have chosen Vaca & Kirby Dental as the Best Dental office overall as well as the Best Cosmetic Dentistry Office in East Texas.
If you're still deciding where to go for your dental check-ups and teeth cleaning, why not go with the Best of East Texas?
Call Vaca & Kirby Dental today at 903-663-0861 or contact us online to learn more about our dental checkups and cleanings in Longview, TX.
The Importance of Routine Dental Visits
While brushing and flossing at home is paramount, even those with the best routines can be affected by dental issues. These problems are often hard to see or feel, which is why routine checkups and cleanings are so important. During your cleaning, one of our highly trained hygienists will remove plaque and tartar that can't be cleaned away at home. However, your dental checkup is the part of your routine visit that can be lifesaving. In addition to checking the health of your teeth, we will also examine your mouth for problems like oral cancer and gum disease.
These dental checkups give us an opportunity to catch dental issues while they are still small, preventing you from having to undergo more extensive and expensive treatments in the future. Unlike other medical issues that get better with time, oral health issues will only grow worse. That's why it's vital to come see us every six months.
What Happens during a Routine Dental Checkup?
During your dental checkup, your dentist in Longview, TX, will examine your mouth for any signs of decay, gum disease, infection, or other issues. We will also take X-rays of your mouth to get a better look at your dental structure and jawbone because some issues cannot be identified with the naked eye. Additionally, these checkups can be lifesaving because we also screen for oral cancer. If caught early on, it is one of the most treatable cancers, and we are highly experienced in identifying its symptoms.
What Happens During Regular Cleanings?
During your routine dental cleaning, one of our hygienists will:
Remove plaque and tartar that couldn't be cleaned away at home
Polish your teeth, giving you a fresh and healthy looking smile
Floss your teeth with proper technique, removing any lingering debris
Provide you with tips for at-home oral healthcare
Our hygienists are also a great resource if you have any questions about how to take care of your teeth or what products to use. After spending some time with you and your smile, they'll be able to give you dental tips and information geared toward your specific needs.
Call us today at 903-663-0861 to schedule your appointment for a dental checkup and cleaning in Longview, TX.