Do you look in the mirror and think, "I wish my teeth were prettier"? Well, with various cosmetic dental procedures, there are various ways to go about improving your smile. Our Longview dentists would like to help people achieve perfect smiles via these procedures: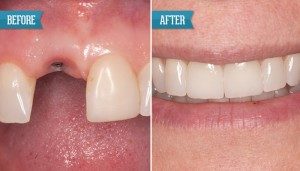 Whitening: This procedure whitens or lightens the color of your teeth, giving you a brighter smile. This is a very common cosmetic procedure for patients with stained teeth.
Bonding: This is used to fill in gaps, chipped teeth, or slightly decayed teeth. Bonding is tooth-colored and is also used for filling small cavities.
Crowns: They are used to cover a tooth completely. It is one of the most time-consuming procedures, but lasts longer than most other cosmetic restorations.
Veneers: Thin pieces of porcelain/plastic are placed over the front of the tooth/teeth to improve shape of your teeth. Veneers can be colored to match the color of your current teeth or can be made whiter for a brighter smile. They are used on teeth with uneven surfaces, discolored, oddly shaped, chipped, or crooked teeth.
Dental Implants: Implants are permanent and replicate the look and feel of real teeth.
Contouring and Reshaping: This is a procedure for correcting chipped, irregularly shaped, crooked, or overlapping teeth and can be completed in a single session. This procedure can correct small problems with your bite and is often used in combination with other cosmetic procedures.
The condition of your teeth and the results you desire are what dictate the best procedure for you. However, you should consult a dentist and ask their opinion.
If you decide to proceed with a cosmetic dentistry procedure, you should make sure you ask what your changes will look like, what you should expect during the treatment, and what you will have to do to maintain results.
Vaca & Kirby Dental Group would like to be your cosmetic dentists in Longview, TX. Interested in a cosmetic procedure? Click below.