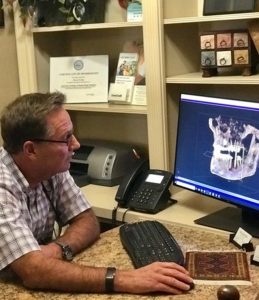 It's very exciting to be in dentistry these days because technology continues to develop at an ever quickening pace.
Dr. David Vaca
,
Dr. Chris Kirby
, and
our team
continue to update and invest in our office so we can benefit from the latest advancements in the field. These new tools allow us to perform a variety of procedures faster, safer, and with less discomfort. Sounds like a winning combination to us!
You can learn more about our technology below, and contact us today to schedule an appointment to experience their benefits in person!
Galileos 3D Cone Beam Scanner
Another important aspect of our digital dentistry practice is the Galileo3D cone beam scanner. Where other dental x-rays only allow us to see one side of the tooth or a few teeth at a time, our Galileos system gives us a three dimensional view of an individual tooth or the whole smile. This system has made it possible for our dental office to provide some of the most advanced treatments more quickly, safely, and comfortably than ever before.
LEARN MORE ABOUT GALILEOS 3D CONE BEAM SCANNER
Intraoral Camera
This small, handheld device allows you to get a "dentist's eye view" of your teeth and gums. Our DigiDoc Camera is able to capture high-resolution images and display them instantly on a chairside monitor. This not only makes it much easier for your dentist to spot small issues, it also enables you to finally see what they are talking about. By being more informed, you can make more confident decisions about your dental care.
Digital Impressions
Traditional dentistry used physical molds of your mouth to create restorations and orthodontics. These have become all but obsolete, thanks to modern scanners. With these, we can measure your mouth more precisely than ever before. The scans are sent directly to a computer, where CAD software allows our dentists to craft your new crown, dentures, or Invisalign® treatment plan. And all this without the taste or the mess of biting a tooth mold.
Digital X-Rays
X-rays are an extremely important part of dentistry today because they allow our team to catch problems that are hidden below the surfaces of your teeth. We only use Dexis digital x-rays in our office because compared to traditional ones, they create images much faster (which we can show you instantly), don't require toxic chemicals to be processed, and they even emit up to 80% less radiation. This is great news for our team and patients alike, because remember, we're around this equipment all day!
Soft Tissue Laser
Our Precise LTM Soft Tissue Laser allows us to complete a variety of periodontal procedures quickly and virtually painlessly. Whether we're using it to treat gum disease or for a cosmetic procedure, this laser can eliminate excess tissue with extreme precision without disturbing the surrounding gums. This means you'll feel less soreness both duringandafter a procedure. Plus, it cauterizes as it goes, which helps prevent bleeding and dramatically reduce your recovery time.
Pharyngometer
This computer, designed and patented at Harvard, has a mouthpiece connected to a sensor arm. When the patient bites down on the mouthpiece, the operator can direct the pharyngometer to send out sonar waves. Just as marine vessels use sonar to determine their surroundings using only sound, this device can then provide accurate measurements of the airway. Because it utilizes sound, the pharyngometer can be used with a sleep appliance in place. Your dentist can then see the success of the appliance in real time as adjustments are made.