We Are Committed to Helping Our Patients Sleep Soundly at Night
In the past, there were only three primary solutions when it came to sleep apnea: CPAP therapy, oral appliance therapy, and surgery. However, thanks to the expertise of the team here at SLEEPwell Longview, we're now able to help patients have access to a viable fourth option: combined therapy. It uses the two non-invasive treatments we just mentioned to help those patients who can't get the complete relief they need from just one. If you're tired of your CPAP, or an oral appliance isn't eliminating your sleep issues, combined therapy may be exactly what you need to finally get the rest you deserve.
Voted Best Sleep Study/Sleep Medicine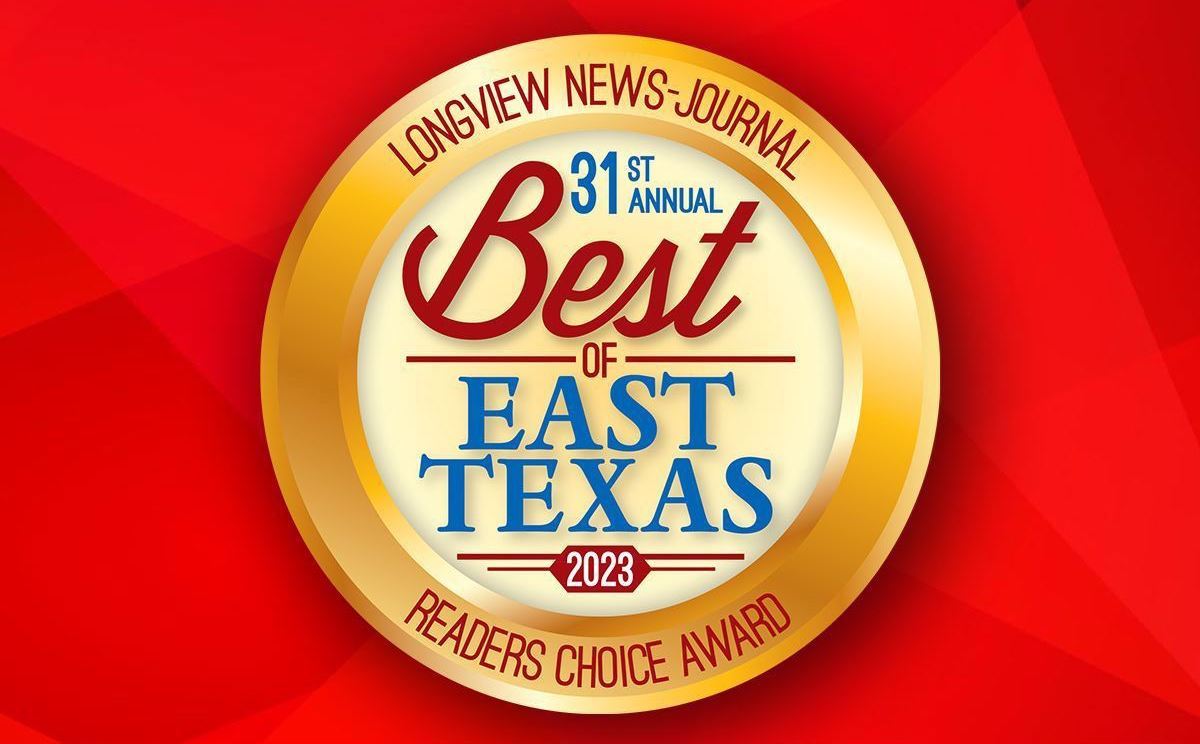 SLEEPwell Longview has earned runner-up in the Best Sleep Study/Sleep Medicine category for 2023 in the Longview News Journal. Readers of the Journal voted and have chosen SLEEPwell Longview as one of the best places to receive sleep therapy for sleep apnea and other disorders in East Texas.
If you're still deciding where to go for sleep apnea treatment, why not go with the Best of East Texas?
To learn more about combined sleep apnea therapy in Longview, TX, and how it works, simply read on below or contact us today at 903-663-5895 for a consultation.
Combined Therapy Part 1: CPAP Therapy
CPAP stands for continued positive airway pressure, and that's because the treatment works like this: A patient wears a facial mask that is connected to an air pump that literally forces oxygen into the throat throughout the night in order to keep the airway open and unobstructed, therefore preventing sleep apnea. If that doesn't sound like the most restful thing in the world to you, you're not alone. For many patients, the CPAP machine creates as many problems as it solves.
A CPAP can be quite noisy when used at its higher settings, which can prevent a wearer as well as their bed partner from falling asleep easily. The facial mask also makes many people feel very uncomfortable, and the machine itself is very cumbersome to travel with, causing some patients avoid traps altogether. However, it is still by far the most effective sleep apnea treatment available today, so a patient often finds themselves stuck with it.
Combined Therapy Part 2: Oral Appliance Therapy
As an alternative to CPAP therapy, many patients will turn to oral appliance therapy like we provide here at SLEEPwell Longview. An oral appliance is small, quiet, and very comfortable compared to the CPAP, working by slightly shifting the jaw forward and keeping the tongue in a neutral position to help the airway stay open during the night. However, for some, this approach isn't enough to alleviate their sleep apnea symptoms, so they find themselves back with the CPAP machine.
How Combined Therapy Works
Enter combined therapy, which is the best of both worlds.
With combined therapy, a patient wears an oral appliance while also using a CPAP with just a nasal mask as opposed to the full face mask. This approach offers both the comfort of oral appliance therapy as well as the reliability of CPAP therapy. Since the airway is being held open by the oral appliance, a patient will be able to put the CPAP on a much lower setting, which not only cuts down on the noise, but it also makes the overall machine much more comfortable to use.
The Benefits of Combined Therapy
Comfort. With combined therapy, a patient can wear just a small nasal mask with their CPAP, which will lessen the discomfort and restrictive feeling of the typical facial mask. Also, thanks to the assistance supplied by the oral appliance, less oxygen needs to be pumped into the throat as well, meaning the machine can be put on a much lower setting.
More compliance. One of the biggest problems with CPAP therapy is compliance. According to most research, as many as 50 percent of the people prescribed to use one stop within the first year. Why? Because the machine is simply uncomfortable and a pain to set up, especially when you just want to go to sleep. Due to combined therapy's increased comfort, a patient will be more willing to use it consistently, which will help them achieve sustained relief from their sleep apnea symptoms.
Effectiveness. In a study conducted by the American Academy of Dental Sleep Medicine, combined therapy was shown to lower the number of apnea events (where a person stopped breathing while they slept) better than CPAP therapy alone. Untreated, participants in the study experienced about seven events an hour, and with CPAP therapy, it was reduced to about four. However, with combined therapy, it was reduced further to about two, showing that if one kind of treatment isn't enough for a patient, combined therapy is a fantastic alternative.
Convenience. Traveling with a CPAP can be a bit of a struggle, especially if you frequently travel by air. Even once you reach your destination, you have to make sure you're staying somewhere that has the appropriate plugs near the bed, and if you leave something at home, it can be very difficult and expensive to find replacement parts. With combined therapy, a patient can simply take their oral appliance on the road for easy, portable sleep apnea relief.
Is Combined Therapy Right for Me?
If you are tired of using your uncomfortable CPAP or if you're frustrated by oral appliance therapy and don't want to undergo sleep apnea surgery, combined therapy could be exactly what you need. To see if it is right for you, all you need to do is schedule a consultation with SLEEPwell Longview. We'll evaluate your current sleep apnea treatment and discuss how we can improve it to better meet your needs.
Also, if you are reading this page and have yet to get an actual diagnosis for sleep apnea, we can help with that, too. All you need to do is take our short and fast STOP-BANG assessment to get the process started. It only takes about 30 seconds to complete, and it will give us vital information as to your risk for having sleep apnea. After completing it, we'll contact you within 24 hours with advice on what to do next.
If you would like to learn more about combined sleep apnea therapy in Longview, TX, and see if it could help you sleep better tonight, please contact SLEEPwell Longview today at 903-663-5895.
You May Also Be Interested In