Dedicated to helping you overcome your sleep problems.
If you're thinking about coming to see us for the first time, please take a moment to read through the helpful information below. If you have any questions afterward, be sure to give us a call and ask! We can't wait to meet you and help you get the rest you deserve.
We'll Accept Your Insurance
If you have medical insurance that has coverage for sleep apnea treatment, then our team will happily accept it and use it to help you save on your care. Our insurance expert will make sure you completely understand your benefits so there are no surprises at checkout or in the mail. We'll even file the claim on your behalf, handle the paperwork, and do any necessary follow-ups to ensure you're getting the most out of your plan. To learn how we can use your insurance to help you save while you sleep, please contact us today.
We're Happy to Accept Medicare
SLEEPpwell Longview is happy to accept Medicare benefits for sleep apnea treatment. We know that Medicare forms and requirements can be somewhat complicated, but our team will make the entire process as simple as possible. We have an extensive knowledge of Medicare and work to stay on top of the latest changes so you have one less thing to worry about when you come to see us. To learn more about how we can use your Medicare plan, contact us today.
We Are Proud To Accept Tricare For Our Military
Active and retired military personnel and their families who have Tricare can use their insurance benefits at SLEEPwell Longview. Our insurance experts are familiar with the filing process and can help you use your benefits for your sleep apnea treatment.
Easy Payment & Financing Options
We're here to make your entire experience with us as smooth and easy as possible, and that includes payment! We accept cash, checks, and all major credit cards. If you would like to break up the cost of your care into smaller monthly installments, we can also help you get hassle-free, low-to-no interest financing with CareCredit or LendingClub. They have a variety of plans that can be suited to fit any budget, and to find one that works for you, simply click on the link below.
Complete Our Convenient Online Forms
If you would like to make your check-in process at our office go much faster, then we invite you to fill out our new patient forms right here online. Simply type in the appropriate information, and when you're done, the forms will be sent directly to our office. With them in hand, we'll be able to get you in to see your doctor right away! Please let us know if you have any issues accessing our forms.
SLEEPHISTORY/EXAM/WORK-UP
A Warranty For True Peace-of-Mind
Life happens. Protect your sleep appliance with the highest level of assurance available, provided by Sleep Well Longview.
As a Dental Warranty Certified Practice, we provide modern, reliable appliances you can trust. However, sometimes there is no accounting for things that call for repair or replacement of your appliance over time.
Your health is an important investment. That's why we offer our patients a warranty that goes above and beyond the ordinary.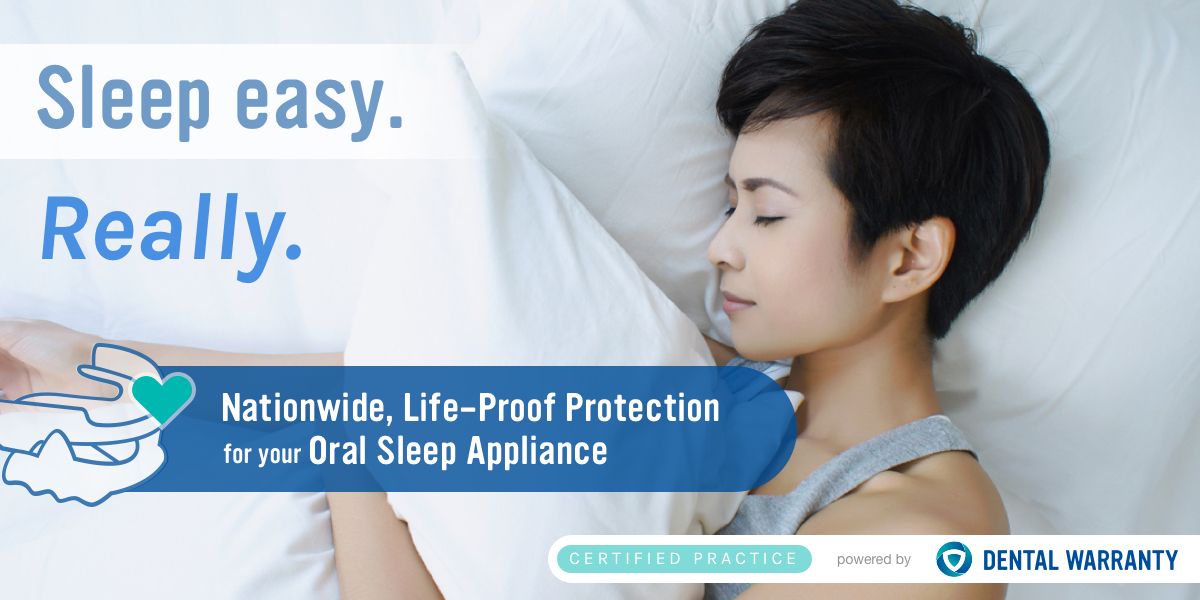 Our Warranty Benefits
PEACE-OF-MIND for an extended period of time on your qualifying appliance.
LIFE-PROOF your appliance from accidental damage from handling – dog-lovers rejoice!
NO COST repair or replacement of covered appliances up to the original value.
NATIONWIDE opportunities to redeem your coverage with any dentist if you move or are traveling.
CONSTANT ASSURANCE that even with insurance frequency limitations, your appliance can be protected.
Patient Responsibility and Enrollment Details
In order to qualify for your warranty benefits, keep up with maintenance visits as prescribed. This helps our patients make healthy choices, and protects the longevity of your appliance.
Sleep Well Longview is excited to offer our patients peace-of-mind protection for your sleep appliance, powered by Dental Warranty.
To learn more about protecting your appliance and for warranty coverage details, contact our office today!
*This is not insurance.