Restore Your Beautiful Smile with a Lasting Solution
Do you love your smile? It says a lot about you—so if the answer is no, it may be time to consider doing something about it. Of all the methods available, porcelain veneers in Longview, TX, are among the most popular and successful. This is a cosmetic dental treatment that can enhance the appearance of healthy but cosmetically flawed front teeth. Keep reading to learn more about porcelain veneers and what you can expect from this procedure.
What Are Porcelain Veneers?
Porcelain veneers are extremely thin shells of porcelain which can be bonded to the front of the teeth that show when you smile to completely revitalize the appearance of your grin.
Using some of the highest-quality dental labs in the country, the veneers will be created after a small bit of enamel has been removed to make room for the new restoration. Impressions will be taken, and the veneers will be expertly customized by highly skilled lab professionals. Once they are ready, you come back for a second appointment for their final placement.
Voted Best Cosmetic Dentistry Office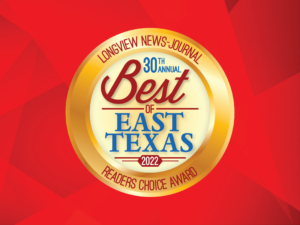 Vaca & Kirby Dental has been voted the best cosmetic dentistry office for 2022 in the Longview News Journal. Readers of the Journal voted and have chosen Vaca & Kirby Dental as the Best Cosmetic Dentistry office as well as the Best Dental Office in East Texas.
If you're still deciding where to go for your porcelain dental veneers, why not go with the Best of East Texas?
Call Vaca & Kirby Dental at 903-663-0861 to schedule your appointment for cosmetic dentistry in Longview, TX.
Microthin Prepless Veneers
One of the amazing veneer options that we are excited to offer is the Microthin prepless veneer. These strong and beautiful layers of porcelain are thinner than any other veneer alternative, giving you the benefits of a traditional veneer without the permanent tooth alteration that accompanies it.
Traditional tooth prep includes thinning the tooth enamel to make room for the porcelain shell, as well as making the tooth's surface more able to hold the sealant. With most veneer options, this is necessary in order to keep the porcelain from looking thick and bulky.
Microthin prepless veneers need no such preparation, but are placed directly onto the natural tooth surface. In fact, they can even be removed if necessary, since your natural teeth are still completely healthy and protected by a layer of full enamel.
All of this makes Microthin veneers the ideal tooth veneer option for people all over the world.
What Are the Benefits of Porcelain Veneers?
Veneers offer a number of benefits for patients who are eager to transform the appearance of their smiles.
Some of the advantages of this treatment include:
The veneers are designed to match the shape, color, and shade that will suit you perfectly.
After their placement, your new veneers will look and feel like your natural teeth.
Dental porcelain used for veneers is highly resistant to staining. You can consider this treatment something like permanent teeth whitening.
Your self-confidence may increase with the help of a new, improved smile.
What Can Porcelain Veneers Be Used for?
Dental veneers can be used to correct a number of cosmetic dental imperfections affecting otherwise healthy teeth, and many adults are eligible candidates for this treatment.
Some of the problems that can be solved by veneers include:
Chipped teeth
Cracked teeth
Severe stains or discoloration that has not responded to teeth whitening
Slight misalignment, like gaps between teeth or minor crowding of teeth
Oddly textured teeth
Misshapen or too short teeth
To determine whether or not porcelain veneers are right for you, your teeth and gums will be examined during an initial consultation. If the answer is yes, we can get started right away!
How Long Do Porcelain Veneers Last?
With proper care and maintenance, veneers can last for up to 20 years. They will eventually need to be replaced due to natural changes in the oral anatomy. To protect the longevity of your veneers, make sure to brush and floss your teeth regularly and visit our office as recommended for a checkup and cleaning. If you play contact sports or grind your teeth at night, investing in a customized mouthguard will help to protect your beautiful smile.
Call Us Today!
Are you interested in learning more about how your smile can be transformed for the better with dental veneers or any other cosmetic treatment? We can't wait to help you love your teeth! Go ahead and contact your cosmetic dentist to discuss your options in cosmetic dentistry.
Call us at 903-663-0861 to schedule your appointment for porcelain veneers in Longview, TX.
You May Also Be Interested In