Straighter Teeth & Easier Treatment
Choosing to straighten your teeth is a big decision that affects not only your appearance but also your lifestyle. As an adult, you may be looking to improve your smile for business and social reasons, or even for a special occasion like your wedding day. Perhaps you're a teen or the parent of a teen looking for an effective yet modern-day orthodontic solution. Either way, Invisalign® can provide a simple solution to accomplish this without having to put your life on hold. Take a moment to learn more about the entire Invisalign® treatment process and how it can improve your smile.
Drs. Vaca and Kirby are passionate about the benefits achieved through the Invisalign® process. Let them guide you in your decision to regain a beautiful smile and self-confidence. You'll be glad you did! To get started, simply contact Vaca & Kirby Dental today at 903-663-0861. We'll schedule a consultation appointment to help you determine whether Invisalign® in Longview, TX, is the right orthodontic solution for you.
What Orthodontic Treatments Are Possible with Invisalign®?
In the past, only the most basic orthodontic solutions were possible with Invisalign® clear braces; but today, we can use Invisalign® orthodontics to reshape smiles and even realign teeth with severe over, under, or crossbite. Traditional clear alignment tray orthodontics are only beneficial to realign slightly misaligned teeth and to even out the spacing of teeth that are crowded or too far apart. We can use elastics attached to tooth-colored nobs on teeth to shift the entire alignment of the bite. These elastic function much the same way that elastic bands attached to traditional orthodontic brackets do. They can be adjusted to place pressure that shifts the entire bite together rather than just moving individual teeth the way that traditional Invisalign® treatment did.
Voted Best Cosmetic Dentistry Office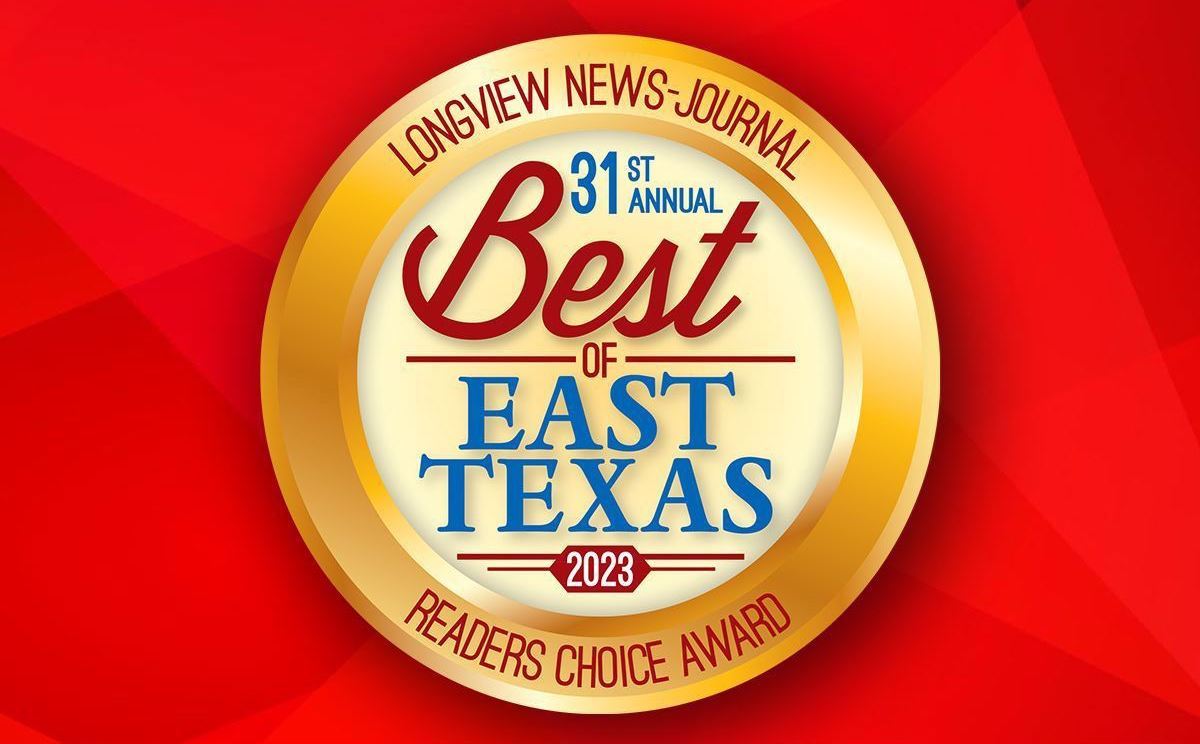 Vaca & Kirby Dental has been voted the best cosmetic dentistry office for 2022 in the Longview News Journal. Readers of the Journal voted and have chosen Vaca & Kirby Dental as the Best Cosmetic Dentistry office as well as the Best Dental Office in East Texas.
If you're still deciding where to go for Invisalign teeth aligners, why not go with the Best of East Texas?
Call Vaca & Kirby Dental at 903-663-0861 to schedule your appointment for cosmetic dentistry in Longview, TX.
Benefits of Invisalign® Compared with Traditional Braces
Unlike traditional bracket-and-wire braces, patients who choose to straighten their smiles with Invisalign® orthodontics can expect to experience a wide range of benefits.
The benefits of Invisalign® include the following:
Saved time. Throughout the course of treatment, patients will not need to visit the office as frequently as they would for bracket and wire adjustments at their orthodontist's office. They also save overall treatment time. Invisalign® orthodontic alignment is completed in about 12 months, compared with traditional bracket-and-wire braces that can take 24 months or longer.
No hassle. Patients can remove their Invisalign® trays at any time, so there's no need to worry about changing your diet or oral hygiene routine during Invisalign® treatment. Simply remove your aligner trays and enjoy your favorite meals and brush and floss as usual.
Comfort. Bracket-and-wire braces can irritate soft tissue in addition to the discomfort patients experience directly following an adjustment. When you first switch to a new set of Invisalign® trays, you may experience some discomfort. However, there's no soft tissue irritation, and patients report that Invisalign® is much more comfortable overall compared to traditional braces.
Improved oral health. Patients who straighten their smiles with Invisalign® will be able to keep their smiles healthy throughout the treatment without changing their regular oral hygiene routines. Following orthodontic alignment, patients are also more likely to maintain healthy smiles. Straighter smiles evenly displace pressure on teeth, so you are less likely to chip or crack a tooth that receives greater pressure. Evenly spaced and properly positioned teeth are also easier to keep clean, reducing your risk for tooth decay and gum disease.
Invisalign – How the Process Starts
Invisalign clear aligners are unique in that they provide a discreet and convenient way of straightening teeth. For the process to be successful, though, requires that some careful initial steps be taken. Your dentist in Longview will do the following:
Perform an Oral Evaluation – We'll start by assessing the condition of your teeth and gums. If you have any developing issues, we'll address them first and then move on to correcting your bite with Invisalign aligners.
Perform a Bite Assessment – Invisalign corrects gaps, misalignment, minor crowding and crookedness. However, before the treatment process starts, we'll make sure the clear aligners are right for you.
Capture Digital X-rays – Instead of relying on conventional X-rays that emit more radiation, we'll capture high-resolution digital images that are available instantly, while exposing you to 90% less radiation than the traditional method.
Develop a Smile Plan – Using our advanced technology, we'll then develop a custom smile plan to accommodate your needs and desires.
Prepare for Fabrication – Finally, we'll send detailed instructions to an in-network lab that will fabricate a complete set of aligners.
How the Treatment Process Works
You'll wear each set of aligners for two weeks and then exchange them for the next pair in the series, following this path until your treatment process is completed. Gradually, your teeth will be adjusted until they are straightened.
Instead of visiting monthly for adjustments, which is standard practice when wearing traditional braces, you'll save time by only checking in to our office every six-to-eight weeks so we can monitor your progress. Whereas bite correction with traditional braces normally takes 24 months or longer to complete, you can have a revamped smile in as little as 12 months with the Invisalign method.
Maintaining Your New Smile
After you've worn your last aligner, either Dr. Vaca or Dr. Kirby will design a retainer that will maintain the position of your teeth while new bone mass grows around the tooth roots. By following the instructions we provide, you won't have to worry about your teeth shifting in the future.
The typical schedule we'll recommend is for you to wear the retainer all day for six months to a year. After you've made sufficient progress, you can scale back to wearing the appliance nightly for up to a year. The next progression in the process is for you to wear the retainer only a few nights a week, until your new smile is permanently imprinted.
Who Should Consider Invisalign® Orthodontics?
Invisalign® clear braces are effective at treating patients with even the most advanced orthodontic alignment concerns. Any patient who wants to straighten their teeth should consider Invisalign® in Longview, TX.
Patients who are good candidates for Invisalign® include:
Those who do not have the time in their schedules for frequent orthodontic adjustments or who want to complete orthodontic treatment more quickly
Those who play a wind instrument or contact sport
Those who want to achieve straighter, healthier smiles but don't want to adversely impact their appearance with metal brackets and wires
Will I Need a Retainer?
Yes. You will still need to wear a retainer following Invisalign® treatment. After any form of orthodontic treatment, your teeth have shifted into a new placement, but it takes time for the underlying supportive bone and soft tissue to reattach to the tooth roots to hold the teeth in their new positions. By wearing retainers for a year or longer, the supportive alveolar bone tissue will harden around the tooth roots to anchor them into position. The gum tissue also reattaches to the underlying structures of teeth. Afterwards you'll need to wear your retainer all day for about six months to a year. Then, you can begin wearing the retainers only during sleep.
Want to Know More?
If you're curious to know more about how Invisalign in Longview works, then reach out to us at Vaca & Kirby to schedule an initial consultation. We'll take the time to further explain the process and answer any of your remaining questions. We're here to help you achieve the smile you've always wanted!
Call Vaca & Kirby Dental today at 903-663-0861 or contact us online to schedule an appointment for Invisalign® in Longview, TX.
You May Also Be Interested In