We Are Committed to Treating Your Sleep Apnea
At SLEEPwell Longview, we're able to treat patients suffering from obstructive sleep apnea (OSA) using an approach called oral appliance therapy (OAT). With OAT, all a patient has to do is wear a small, custom-made mouthpiece to bed each night in order to alleviate the breathing cessation associated with the disorder. Every appliance we make is designed to fit each patient's unique smile so it can be trusted to be both comfortable and effective. They work by slightly repositioning the jaw in order to keep the airway completely unobstructed during the night.
OAT has been proven effective in numerous clinical studies and has been shown to be an excellent alternative to the CPAP machine. It can also be used to help stop snoring as well, which is good news not only for the wearer, but their bed partner, too!
Voted Runner-up for Sleep Study/Sleep Medicine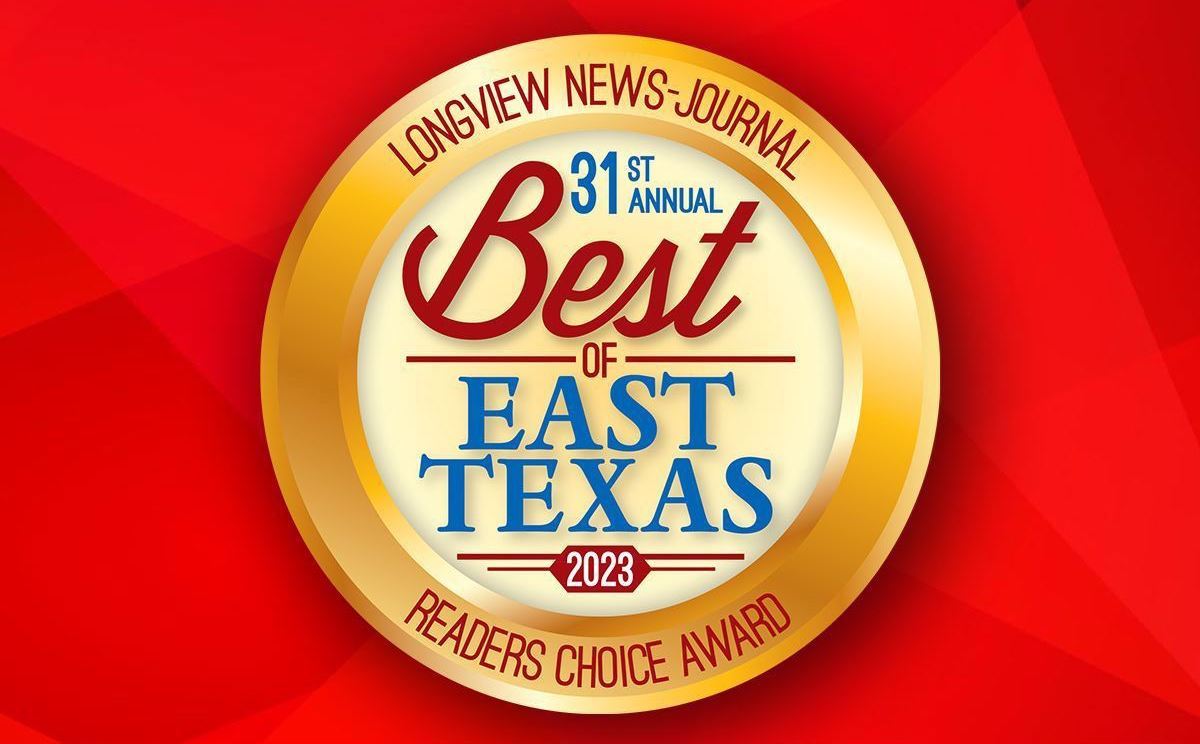 SLEEPwell Longview has been voted runner-up in the Best Sleep Study/Sleep Medicine category for 2023 in the Longview News Journal. Readers of the Journal voted and have chosen SLEEPwell Longview as one of the best places to receive care for sleep apnea as well as the Best Dental Office in East Texas.
If you're still deciding where to go for sleep apnea treatment, why not go with the Best of East Texas?
To learn more about oral appliance therapy in Longview, TX, and how it works, simply read on below or contact us today at 903-663-5895 for a consultation.
Is Oral Appliance Therapy Right for Me?
While CPAP therapy is still the most often prescribed treatment for sleep apnea, OAT may be more appropriate in certain situations.
An oral appliance might be right for a patient if:
They suffer from mild to moderate OSA and are untreated
They are CPAP intolerant
Their CPAP prevents them from sleeping comfortably
Surgical treatment for sleep apnea hasn't achieved the desired results
They suffer from loud, chronic snoring
They have sleep apnea and frequently travel
They could benefit from combined therapy
What Types of Oral Appliances Do We Use?
As you can imagine, everyone we treat has unique teeth and different reasons for why they suffer from sleep apnea, so in order to provide the best possible treatment we can, it needs to be personalized and consider both of these factors. At SLEEPwell Longview, we make sure every oral appliance we provide is perfectly suited for a patient so that it is both comfortable and effective. We design the appliances ourselves, and then they are made by some of the most popular brands available today. When getting OAT with us, we'll go over your different appliance options so we can find the one that works best for you.
Your CPAP Alternative in Longview
The CPAP machine, or continuous positive airway pressure machine, is used around the country to treat those with sleep apnea. It works by having a patient wear a facial mask that is connected to an air pump that literally forces oxygen down the throat in order to keep the airway open.
As you can imagine, it can be uncomfortable for some patients, leading to a variety of issues, including:
Trouble falling asleep due to the noise of the machine
Disturbing a bed partner also due to the noise
Chronic dry and sore throats in the morning
Feelings of claustrophobia due to the facial mask
Limited mobility due to the bulkiness of the machine
Difficulty traveling with the machine
The expense of maintaining the machine
If you currently use a CPAP and these issues sound familiar to you, then OAT may be the alternative you have been waiting for. Our oral appliances are small, make no sound, and they can actually fit in your pocket when you travel, enabling you to get a good night's rest wherever you go.
If you're sick and tired of struggling with your CPAP, contact SLEEPwell Longview today at 903-663-5895.
Treatment Recommendations from the AASM, the AADSM & the ASBA
The American Academy of Sleep Medicine (AASM), the American Academy of Dental Sleep Medicine (AADSM), and the American Sleep and Breathing Academy(ASBA) set the standards for sleep apnea care in the United States. These organizations provide continuing education, certification, and training for doctors who wish to expand their knowledge and ability when it comes to treating people with various sleep disorders
Dr. Vaca and Dr. Kirby are both members of the ASBA, and Dr. Kirby is also a member of the AASM and the American Board of Dental Sleep Medicine, so you can trust that they are up to date on all the latest information and techniques when it comes to your care.
When it comes to visiting a dentist for oral appliance therapy to treat sleep apnea, these organizations have a few suggestions they recommend patients follow.
These recommendations include:
A patient should consult a doctor or sleep dentist if they suffer from loud, chronic snoring, as this can lead to a more serious sleep disorder in the future. Preventive care can be beneficial for both the patient as well as anyone who sleeps near them.
While there are many generic oral appliances that a patient can simply buy at the store or online, they typically are one-size-fits-all and aren't as comfortable or effective compared to an appliance made by a dental professional. In the worst case, these appliances can even make sleep apnea worse or cause a patient to suffer jaw pain.
A patient who does not consistently use their CPAP or can't because of frequent travel may be able to benefit from oral appliance therapy, so they should consult a qualified sleep dentist.
After receiving an oral appliance, a patient will need to have periodic follow-up checkups with their sleep dentist in order to make sure the appliance is meeting your needs. These visits will also allow the dentist to monitor a patient's response to oral appliance therapy and recommend any treatment changes if necessary.
Have Any Questions?
If you would be interested in learning more about oral appliance therapy in Longview, TX, how we use it, and how it could help improve your sleep, please contact SLEEPwell Longviewfor a consultation. No matter what your sleep needs, we'll help you find the right solution.
You May Also Be Interested In