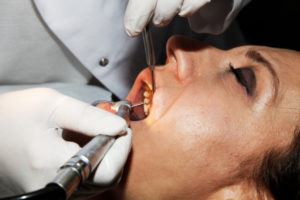 When you're missing one or more teeth or you receive the news that you need to have a tooth extracted, you may feel overwhelmed by the thought of planning for tooth replacement. Adding an additional surgical procedure like dental implant placement into this mix, can take overwhelmed to completely stressed. If you're thinking about replacing one or more missing teeth with dental implant supported tooth replacement, take a deep breath. This may seem like a complex treatment option, but let's take it one step at a time.
Step 1 – Schedule a Consultation Appointment
To get started, you'll need to call to schedule a tooth replacement consultation with a trusted dentist who provides dental implant placement. During this initial visit, the dentist will examine your smile, review overall health, discuss any past surgeries, and answer your questions. At this time, you should review all of your tooth replacement options and try to find the best one for your unique situation. If you choose to proceed with dental implants, you should schedule out your entire treatment process to ensure treatment will fit your schedule and budget.
Step 2 – Your Dental Implant Placement Surgery
Dental implant placement is a minimally invasive surgical procedure. The dentist will need to make an incision into the gums and supportive jawbone structure. Then, an implant post is placed into the jaw. A protective cap is attached to the top of the implant. This protects the site from damage or infection as it heals and the implant fuses with the jawbone.
Step 3 – An Osseointegration Vacation
Following dental implant placement, you simply need to wait between three and six months. During this time, the dental implant post fuses with the supportive alveolar bone and gum tissues. This creates a natural support structure to anchor any number of replacement teeth just like a tooth root does.
Step 4 – Beautiful, Long Lasting, Full Smile
Following the osseointegration process, you'll return to the dental office. The protective caps are removed, and your tooth replacement prosthetic is attached using an abutment piece. Finally, you go home with a flawlessly restored smile.
Meet the Vaca & Kirby Dental Team
If you're looking to replace one tooth or a full row of teeth, trust Vaca & Kirby Dental in Longview. Our skilled dentists and dental team have years of training and experience that makes us the trusted resource for patients in need of tooth replacement. Your journey to a flawless smile begins with one phone call. Contact us to schedule your consultation appointment. We'll examine your smile and help you create a custom treatment plan that delivers a whole, healthy smile you'll be proud to share.