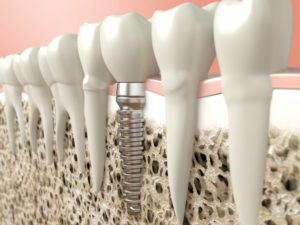 You're at your teenage son's soccer tournament and he's been doing well that entire game. With only a few minutes left, he manages to pass the ball to a teammate who scores a goal. After the ball hits the net you look back and see him on the ground. Without hesitating you jump up to make sure he's okay.
He slipped on the grass after passing the ball and hit a hidden rock face-first. His mouth is bleeding and when he reaches to wipe his mouth, a tooth comes out. You wonder, could dental implants in Longview replace his tooth?
Why Dental Implants Aren't Ideal for Children
Typically, dental implants are the best solution to missing teeth for several reasons. They look just like regular teeth and last for many years. However, it isn't recommended for children or young teenagers to get dental implants until their jaw has finished growing. Placing implants too early can also prevent other teeth from coming in naturally.
For girls, the minimum age qualification is 15 and for boys, it is 17. This is because girls' bone growth is more likely to complete before boys. Once this growth is complete, dental implants will not affect future developments. Instead, see of you can salvage the original tooth to be replaced.
How to Save the Tooth
If you can find the tooth after it's been knocked out, keep it moist in either milk, saliva or salt water to keep it moist. Don't let the tooth dry out or remove any attached tissue as this could prevent it from reattaching later. Be sure to avoid touching the root as you could accidentally remove tissue or pulp.
After rinsing it, try to place it gently back into your child's socket to see if it will hold in place. If this doesn't work, keep it soaking until you make it to your dentist in Longview. To stop your child's mouth from bleeding, provide them a sterile gauze to bite down on or hold in place. If the tooth is lost or cannot be saved, there are other options available.
Alternative Solutions to Replacing Teeth
Instead of having a gap in their smile, dentists can provide several different methods of treatment to restore their smile. Consider the list below before your next dental visit:
Removable partial denture – dentures are designed to hide the fact your child is missing a tooth and are also removable as needed. This is a fair temporary solution until they are old enough for implants.
Bridge – A better alternative to dentures, fixed bridges and resin-bonded bridges can function and look better.
Braces – Not only can braces correct crooked teeth, but they can hold artificial teeth with an orthodontic wire to fill any gaps left by avulsed teeth.
Space maintainers – Even if your child only lost a baby tooth, you'll still want to make sure their permanent teeth remain properly aligned as they erupt. Both removable and fixed maintainers are available depending on the nature of the accident.
To schedule a future appointment to replace your child's tooth, contact your implant dentist in Longview today!
About the Author
Dr. David Vaca, DDS earned his Bachelor of Science in Biology from Texas A&M University followed by his Doctor of Dental Surgery degree from the Baylor College of Dentistry. Before forming Vaca and Kirby Dental, Dr. Vaca practiced general and cosmetic dentistry for several years and became a member of several dental associations, including the American Academy of Cosmetic Dentistry, the ADA, and the East Texas Dental Society. To learn more about cosmetic treatments and his practice, contact him at903-663-0861 or visit his website.