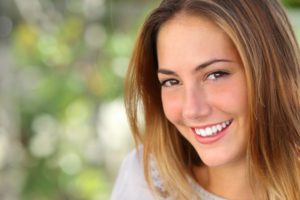 Sometimes caring for your teeth can feel inconvenient. Maybe you get frequent cavities or you have sensitivity to hot or cold. Perhaps you're having a severe toothache that you want to get rid of as soon as possible. Whatever the reason, have you ever wondered whether it would be better just to have your teeth removed altogether? Well, the truth is that it is almost always better to save the natural tooth. But why? Keep reading to learn more about the importance of your natural teeth, how to save them, and what you can do if they need to be extracted with your dentist in Longview.
Why is preserving my natural teeth so important?
Missing a tooth can do more than just change how your smile looks. It also impacts your long-term oral health. The remaining teeth can shift to compensate for the gap, causing misalignment in the jaws and excessive wear on the teeth. Also, when a tooth is removed, the jaw bone is no longer stimulated and begins to lose density. Over time, this can change how your facial structure appears and can lead to more tooth loss in the future.
Although tooth restoration options, such as dental implants, are advanced and can closely mimic tooth structure, the truth is that they still can't do everything a natural tooth can do. For instance, the nerves in your natural teeth allow you to sense how much biting force you need to exert when you chew your food. Whenever possible, it is preferable to save a natural tooth rather than extract it.
How can my tooth be saved?
If your tooth is decayed, your dentist in Longview should be able to removed the decayed portions and place a filling or crown. For more advanced decay, a root canal can relieve pain and address the infected pulp. Other conditions, such as gum disease, can affect your teeth as well. If left untreated, gum disease can spread to the jaw bone and tissue, weakening the support they provide for your teeth. By treating gum disease as early as possible, you can avoid the need to extract any teeth.
The dentist can do so much more for you than just treat dental issues after they cause problems. Your six-month checkups and cleanings play an important part in maintaining your oral health and preventing the need to remove a tooth. For example, these appointments allow your dentist to find problems early in development when they are much easier and less painful to resolve. Also, the cleaning removes plaque, which houses bacteria that can cause cavities and gum disease. By keeping these appointments twice a year, you can more easily preserve your natural teeth for many years to come.
What if I actually do need a tooth extracted?
Sometimes extracting a tooth is the only option, and that's okay. There are many tooth replacement options available, including dental bridges, dental implants, dentures, and dental crowns in Longview. These options, particularly dental implants, directly address the problems that missing a tooth presents. Contact your dentist to discuss which tooth replacement option is right for you.
In the end, if possible, your natural teeth are worth the time and effort to save in the long run. Maintaining good oral habits and seeing the dentist twice a year can help you preserve your oral health and prevent future dental problems. That way, you can keep eating, speaking, and smiling with your natural teeth for many years into the future.
About the Author
At Vaca & Kirby Dental, patients have access to three dental experts with years of experience. Dr. David Vaca, Dr. Chris Kirby, and Dr. Stephen Walker all provide comprehensive dental care, but have individual specialties particularly in dental implants, laser dentistry, sleep medicine, and periodontology. To schedule an appointment with them, you can call903-663-0861 or click here.